Eco-Friendly Deodorants For Sustainable, Zero Waste Living In 2022
Are you uncomfortable with the way you spent 2021 waste wise? Do you feel guilty somehow?
Not to worry! In this article, we're going to give you our pick of the best natural deodorants from zero waste deodorant brands so you can make those sustainable, zero waste resolutions for 2022 a reality!
Natural deodorant vs. conventional antiperspirants
There's no shame in using a conventional deodorant. But we want to give you the facts. (And if you just so happen to be swayed into choosing zero waste deodorant brands over conventional deodorant brands, so be it.)
Aluminum
Aluminum is a common ingredient in conventional deodorants and antiperspirants along with castor oil and sometimes palm oil. And while it may seem harmless, there has been some research to link aluminum to certain health conditions.
There is not enough scientific evidence to prove that aluminum can cause these health conditions. But it still stands that totally natural deodorants that are aluminum free would offer you the same protection with maybe even better peace of mind.
Parabens
Additionally, conventional deodorant creams may contain parabens, AKA endocrine disruptors. Like aluminum, there is still no substantial scientific evidence of the harm that parabens may pose.
But would you really be willing to take that chance when you have more natural deodorants at your disposal? (Okay, we didn't mean to make that pun but it just worked so perfectly.)
If you're looking for an eco-friendly deodorant, then we're here to give you the options. So scroll on down and take a look at the best zero waste deodorants out there.
#1. PAPR Cosmetics
When it comes to the best natural deodorant, we like to think we know what we're doing. Because, well, we do!
At PAPR Cosmetics, we offer vegan and cruelty free natural deodorants that come in plastic free packaging. Because we don't want our deodorant containers to last forever.
Instead, we offer natural deo in compostable cardboard tubes. That way, you can sigh a breath of relief knowing that you'll be safe in the hands of our natural ingredients.
And the Earth herself can sigh a breath of relief from our zero waste deodorant alternatives that come in biodegradable packaging. (She really doesn't love it when our trash tends to linger.)
And let us stop you before you come at us with the argument of, "But how do I know your natural deodorant will keep me smelling fresh?" Well, care to take a look at what we have in stock?
With our zero waste deodorants like Bright Shiny Morning, you can indulge the subtle notes of pink grapefruit essential oils (along with other pure essential oils). Or if you're looking for something more sultry like sandalwood and patchouli, try out our zero waste, plastic free, and aluminum free deodorant So Hot Right Now which is, in our opinion, aptly named.
From Dusk Till Dawn will live up to its best zero waste deodorant moniker as you're accompanied by the scents of bergamot and citrus throughout your day. And our zero waste deodorant stick of Coastal Forests will make you feel like you're taking a seaside walk with its cedarwood and Spanish cypress aroma.
For those of you who just want a zero waste deodorant with no nonsense scents, you can always try out The Deep. (Linen lovers and sweet plumeria fans will enjoy this cottagecore scent packaged in a plastic free and zero waste deodorant tube.)
And lastly, our Sensitive - Bare Naked is a love letter to those with sensitive skin. You can guarantee that that love letter is baking soda free, fragrance free, and packaged in a zero waste tube just like our other plastic free deodorants.
But enough about us. There are 14 other eco-friendly deodorants waiting to introduce themselves to you!
#2. Ursa Major Hoppin' Fresh Deodorant
Some tend to think that the best natural deodorant means having a rough and gritty texture - just because it's aluminum free! But Ursa Major Hoppin' Fresh Deodorant puts that rumor to rest.
Its gel texture glides onto your skin as its earthy scent reminds you that you don't need synthetic fragrances to smell fresh and stay fresh. Baking soda and kaolin clay are the main absorbents in this plastic free deodorant.
But for those with sensitive skin, they also carry a baking soda free option as well. Either way, you can enjoy the silky texture they achieve from unrefined shea butter and aloe vera.
And you can go throughout your day without being bombarded by your own body odor. (We've all been there... but shea butter and coconut oil to the rescue!)
#3. Ben & Anna Natural Deodorant
Another natural deodorant company that forgoes plastic tubes and plastic packaging is Ben & Anna. Their vegan deodorant and cruelty free formula is sure to steal your heart.
Not to mention any other bacteria that might be lurking around in your sweat glands. Their stick deodorants come in a variety of scents too.
So you can fight odor causing bacteria with your trusty steed in tow. That is, if your trusty steed is a fresh scent.
#4. Schmidt's Natural Deodorant
You might be familiar with Schmidt's but not necessarily their zero waste deodorant products. That's because the company is starting to reproduce their signature natural deodorants in reusable glass jars!
With all organic natural ingredients, this zero waste deodorant will make sure you're living your best zero waste lifestyle. And besides, they have a cool Recycling Club Rewards Program too.
So when you mail in five plastic lids, they'll send you back a free deodorant of your choice! Not a bad way to get more people to turn over to the dark (read: zero waste, plastic free deodorant) side.
#5. LoveFresh Super Strength Deodorant
We get it. Some of us are heavy sweaters, and there's nothing that can really be done about it.
But that hasn't stopped LoveFresh from making their Super Strength Deodorant. Like many other natural deodorants, their deodorant sticks' formula contains baking soda which, for some, can irritate sensitive skin.
But they also pair it with arrowroot powder to make their natural plastic free deodorant. These two powerhouses work together seamlessly to absorb moisture as their groupies (read: organic ingredients) follow along to provide a natural fragrance.
#6. Pretty Frank Natural Deodorant
You may be more familiar with their former name, Primal Pits. But Pretty Frank continues to deliver a variety of zero waste deodorants that will honestly tick all the boxes you've got on your list.
Their zero waste deodorant formula combines the powers of baking soda, arrowroot powder, anti-inflammatory zinc oxide, and magnesium hydroxide. All of which help to soak up sweat and neutralize odors.
Additionally, organic coconut oil, organic shea butter, and organic beeswax, all come along for the ride in this cruelty free, aluminum free, eco-friendly deodorant. But they didn't stop there.
For those looking for vegan deodorant options, they also offer a deodorant stick that's completely beeswax free. And those looking for a natural baking soda free deodorant cream will be delighted to try their activated charcoal or non nano zinc oxide deodorant.
They really thought of everything. Like many natural deodorants with only natural ingredients do.
#7. Meow Meow Tweet
When it comes to options in the zero waste deodorant world, Meow Meow Tweet doesn't skimp. All of their deodorants are made with certified organic ingredients that are vegan and cruelty free.
And Meow Meow Tweet just stick to deodorant sticks. They also offer cream deodorants too!
All of their deodorant creams comes in a fully recyclable, plastic-free glass jar. And since it's in deodorant cream form, you can bet the application is as smooth as it is silky.
Additionally, they also offer a baking soda free version and an Underarm Primer. Because they get that while you're making the transition to natural deodorant, you don't want to have to go through that extra stank.
#8. Little Seed Farm
This company's name might as well be talking about the amount of deodorant you'll actually need to use everyday. Because a pea-size amount of Little Seed Farm's zero waste deodorant is enough to last you a whole 24 hours!
Their aluminum free deodorants are cruelty free, paraben free, gluten free, and free of GMOs. So you're really treating your pits to some of the best deodorant bars out there.
And those looking for an alternative to baking soda will love them as well. Their activated charcoal deodorant contains organic jojoba oil, coconut oil, arrowroot powder, and organic essential oils.
And the little wooden scoop stick that comes included with your purchase is too cute to say no to. (No seriously, it's ridiculously adorable.)
#9. We Love the Planet
Well they just got right down to it with the name, didn't they? But it's true!
We Love the Planet's deodorants contain only natural ingredients - and organic ingredients - that the Earth absolutely loves. Or, at least, doesn't mind.
With coconut oil, beeswax, corn starch, and baking soda, this deodorant formula delivers on their zero waste promise, as well as their plastic free deodorant promise. And the citrus fruit essential oil included also makes for a light, clean scent.
#10. Elevated Pits
This cruelty free zero waste deodorant will surely make you want to raise your pits in the air. (Get it? Because it's Elevated Pits? Oh, whatever...)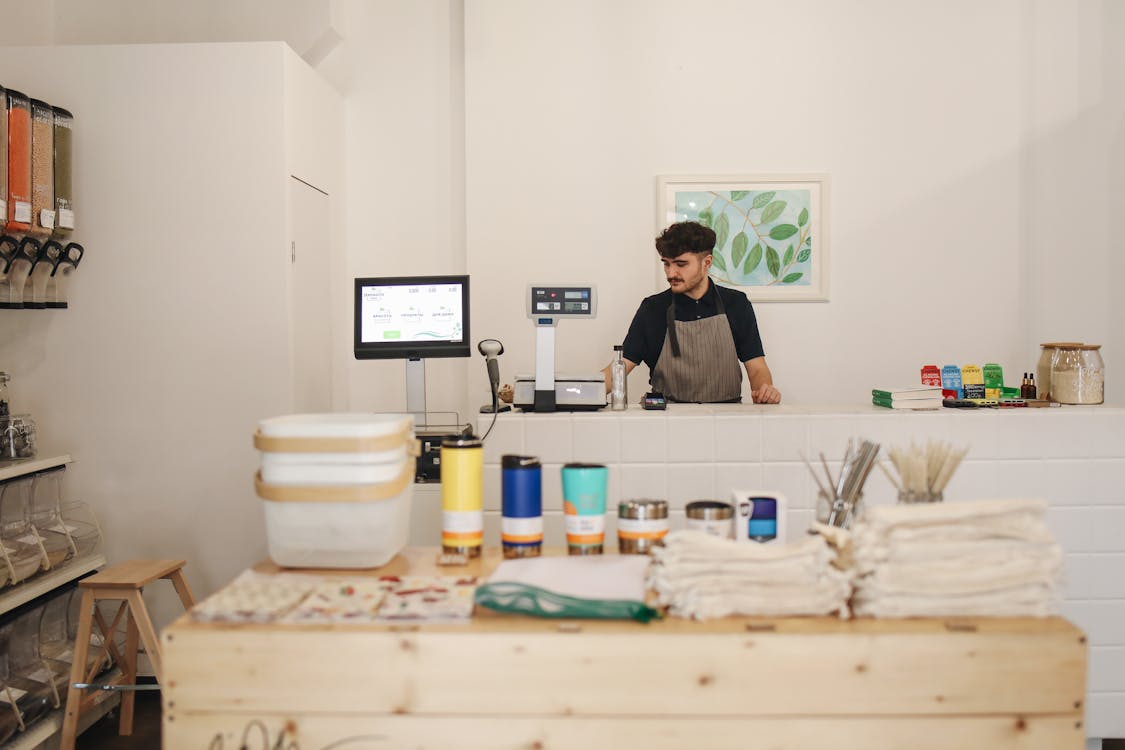 Anyway, these zero waste deodorants come in plastic alternatives like a plastic free glass jar - a reusable glass jar at that. And uses naturally derived ingredients like coconut oil, cocoa butter, shea butter, baking soda, essential oil like tea oil, and arrowroot powder for their probiotic deodorant.
And if that wasn't enough, they also plant a tree for every order they receive! (We're proud to be in the same club as them, in case you were wondering.)
#11. Lakeside Natural Apothecary
Fans of aluminum free, baking soda free options will absolutely love what this company has to offer in terms of eco-friendly deodorant. Instead of baking soda, Lakeside Natural Apothecary relies on arrowroot powder and bentonite clay to soak up moisture in their essential oil deodorant bar.
And each waste free deodorant bar comes in a non toxic glass bottle with plastic free packaging. Not to mention that the name of their company alone will make you feel like you're on a wellness retreat by a tranquil lake.
(Can you tell we're already dreaming of a vacation? When is the next holiday coming up??)
#12. The Natural Bath Company
Okay, this one is super interesting. The Natural Bath Company doesn't use a plethora of fair trade ingredients like the other companies we've listed above.
Instead, they use one ingredient alone. Ancient Himalayan crystallized salt!
To use it, simply rub under your arm and you'll be armed with an invisible layer of protection. (Sorry, we couldn't resist the pun.)
And what's even cooler is that these Himalayan bars can also be used as a dry hand sanitizer. Crazy, right?
#13. Natural Vegan Club
Not only are their deodorants vegan (duh) and palm oil free. Natural Vegan Club also forgoes plastic packaging and animal testing in every non toxic eco-friendly deodorant bar they produce!
In fact, they've recently completed a round of crowdfunding intended to finance what they call "the world's first compostable paper bottle." Otherwise known as the EcoBottle.
If this is your first time hearing about this plastic free company, you can bet it won't be the last! They're on a zero waste mission all right, starting with a zero waste deodorant bar.
#14. Pure Chimp Natural Deodorant Balm
We admit, we do like the nod to our fellow ancestors in the name of this company. But it's Pure Chimp's deodorant formula that makes us so excited.
Their palm oil free formula is great for sensitive skin (as palm oil free formulas guarantee no irritation). Not to mention that their plastic free packaging gifts you a free recyclable glass jar with an aluminum lid!
(Okay, maybe you don't get excited about being gifted recyclables. But we do! So let us have this!)
#15. Lavanila's The Healthy Deodorant
Last but certainly not least, we have Lavanila's The Healthy Deodorant. Relying on corn starch to soak up your sweat ducts and minimize odor, this deodorant glides on smoothly.
And it even has natural antibacterial ingredients like tea tree oil and goldenseal. Leave it to them to combine powerful antibacterial ingredients that also give you a nice and refreshing scent.
Additional tips for zero waste living
Using a plastic free antiperspirant with coconut oil is a great way to start living your zero waste lifestyle. But zero waste antiperspirant isn't where zero waste living stops.
Give more attention to sustainable products
For a product to be sustainable, the product must possess human, social, economic and ecological significance from the time of excavation of raw materials to the point of finish.
Sustainable products like refillable deodorant are eco-friendly as well as being friendly to the humans because of their avoidance of certain chemicals. For example, toxin free, chemical free, and plastic free deodorant.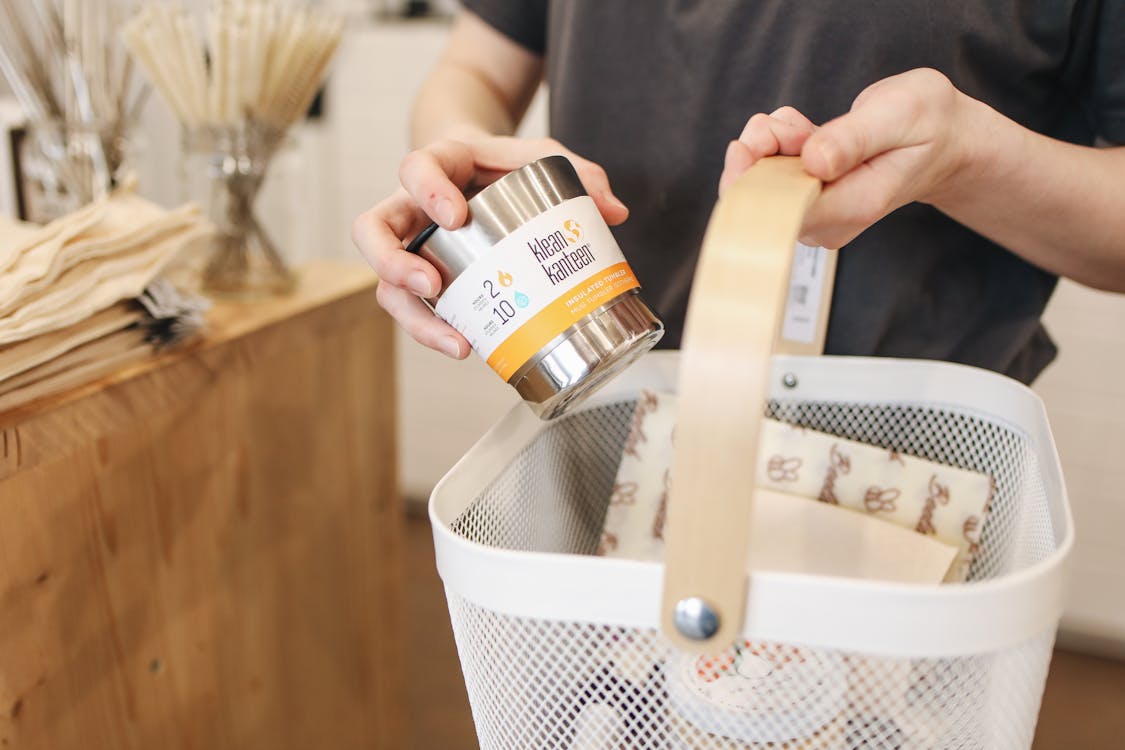 Purchasing sustainable products like sustainable deodorant - or better yet refillable deodorants - that's fragrance free or uses tea tree essential oil helps to cut down on your amount of plastics, wrappers, bags headed for landfills.
One way to note sustainable products is by the different types of seals that they possess, examples include the Green seal, the Nordic seal among others. Plus, anything that is certified organic.
Patronize local, zero waste products
Carbon footprint is directly proportional to the increase in distance; that is, as the distance increases so does carbon emissions whether by vehicles or feet. 
If you can get the same DIY zero waste deodorant cream or deodorant bar within your neighborhood at around similar prices, there is absolutely no need to travel miles to get it. By purchasing from local sellers or farmers that are certified organic, you ensure positive attention is given to the human and social significance of sustainability while still getting a deodorant bar out of the deal.
Volunteer
If there is one thing that should be at the top of your 2021 sustainability list, it should be volunteering.
Volunteering shows its effect in every sector of sustainability as you can volunteer in almost every area. Whether in planting trees or helping out in other areas, volunteering stands out. An amazing thing about volunteering is that you give, now this may not be giving back but giving out a you render assistance to those who you may not know but could use the help.
Donation
Places such as shelters, orphanage homes, correction facilities, clinics and homes for children with dis-abilities can be donated to. Most of this places which are private run on Donations and volunteering.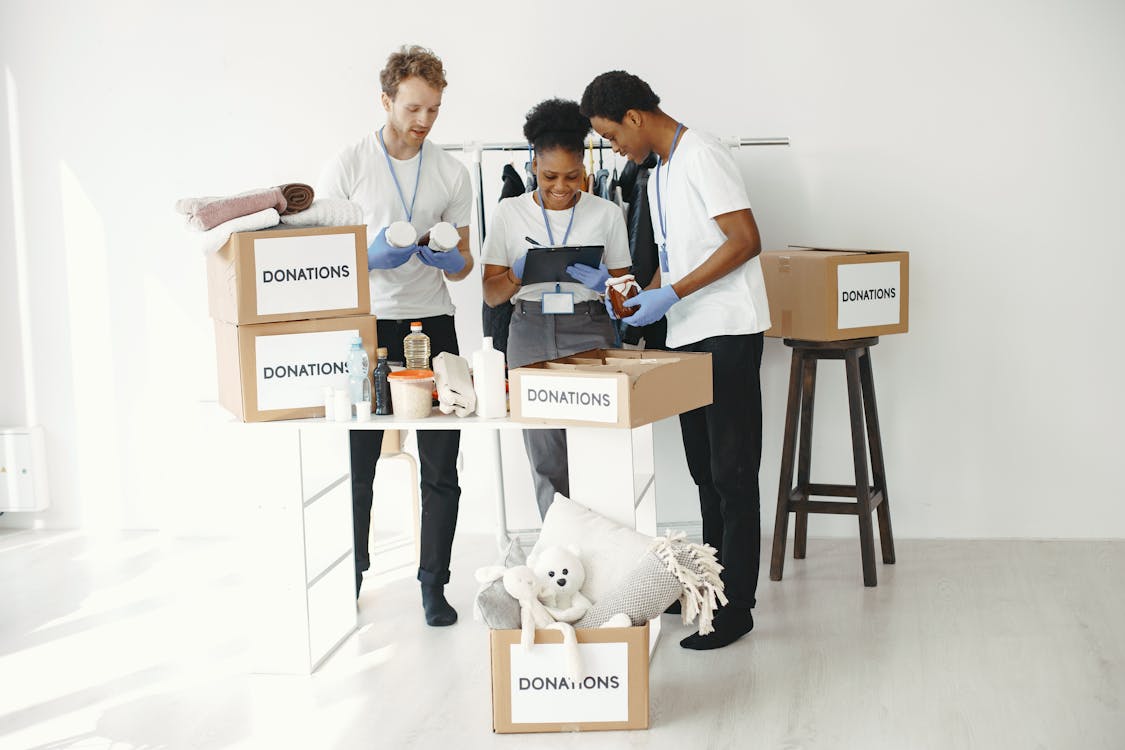 Items such as uncooked foods or money can go a long way. There are several regions in Asia and Africa where immunization and 3 square meals is a joke for children.
Thankfully however, there are several organizations working to render assistance the residents of such region. These organizations are open for donations from round the world giving you a chance to also render help without leaving your comfort zone.
Reuse Packages
One thing I have learnt over time that saves money, time and also prevent large amount of carbon footprint is the re-use of package wrappers. Christmas and New year celebrations have begun and with them comes an influx of gifts, some of which are wrapped, others packaged and the rest bagged. Gifts wrappers are not recycled because the ink on them makes them hard to and so increase in the dump in land fills. 
Oh, it makes things easy now that some natural products employ the use of paper packaging especially natural deodorants at Paper cosmetics which uses Paper Tube packaging.
One thing I have done is the re-use of a gift wrapper, whilst names are usually not written on either wrappers or bags, it makes it easier to use for any sort of celebration! You can keep the wrappers which can be re-used later which leads to less waste produced by you.
Going au naturel
Going the eco friendly route towards more sustainable living is definitely something you should be proud of. Because you're not just being friendly to the Earth with your sustainable deodorants.
You're actively protecting her. Just as any mother would protect their child.
So, don't you think it's about time we gave back to our dear Mother Earth? We think so.
--
PAPR Cosmetics is on a mission to create conscious beauty products with as little impact on the planet as possible. Our products are fully recyclable, vegan, and cruelty-free. When we take down one tree, we plant a new one. For more information and sustainability tips, follow us on Instagram, Facebook, Pinterest, LinkedIn, TikTok, YouTube, and Tumblr.  
✕